Social Enterprise | Web & Mobile App | Platform & Products
SeeKindness is a social enterprise whose mission is to deepen our connection to each other and our communities through sharing acts of kindness and gratitude. It is a social engagement platform designed to support several digital products.
Project Summary
SeeKindness came from the restless energy of a multi-generational group people stuck at home during the COVID-19 pandemic in early 2020. ASC Creative Ltd. pulled together a team to create positive energy to counter all the stress and tension of those days. The process of designing and developing SeeKindness also helped the team's mental energy to stay focused. As the team researched the benefits and the scope of SeeKindness matured, the team came to understand that SeeKindness could be broadened beyond one pandemic to create positive energy and enhance emotional well-being on a daily basis.
Strategy & Roadmap
The team's first move was to design a stable platform on which users could post random acts of kindness and pin them on a map. This included deciding on a categorization of acts using the names of Beatles songs as the first category name. The combination of map and playful category names and badges have created an engaging experience on the site. Based on strategy from ASC Creative, our next move is deepening the engagement model through content marketing, interaction design and playful nudges to bring people to the site. A part of the engagement strategy, we are creating several 'products" that will also generate revenue. The first product is Gratitude Cards, which is where acts of gratitude can be expressed and and signers can see pinned messages on a map which represent the source of the gratitude. Other products will be delivered later.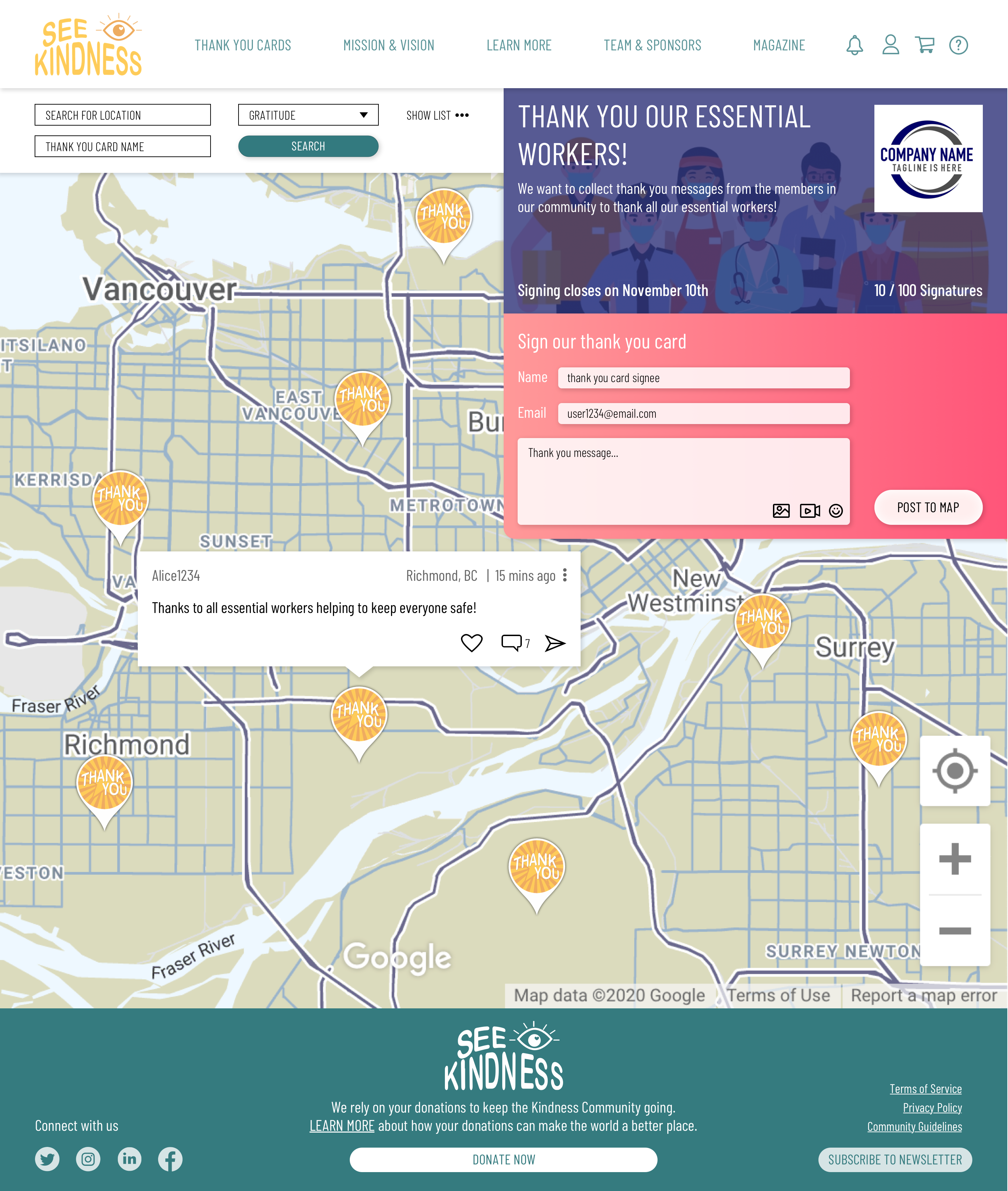 UX Design
The UX challenge was to make sure the site communicated its distinctiveness without loosing the familiarity that we are used to with sites like Twitter and Facebook. Structurally we needed to give as must space as we could to the map and category badges but also provide users with a solid landing and comfort that SeeKindness is a safe, comfortable space. We also are working to build in more micro interactions and subtle invitations to engage with the content. 
Visual Design
The visual design riffs off of the Haight Ashbury/Yellow Submarine/Summer of Love era without being derivative. The idea was to use the colours and visual style from that era but modernize it for a platform based in 2020 and beyond. The overall look and feel needed to be both safe and playful, communicate the benefits of kindness and well as the feeling you have when you have been kind to someone.
The first release of SeeKindness was developed using WordPress with custom built plugins and a responsive template so that we could release as quickly as possible. New technology stacks will be implemented to support demand and enhanced functionality. iOS and Android apps are also on the product roadmap. 
Delight & Inspire
Since 2007, ASC Creative has worked on 100+ projects of all sizes. We are proud of our 98% completion rate and 99% customer satisfaction rate. Simply said, we work very hard to make your project a success.